Jillian uses affiliate links in this post, meaning she may get a commission for any purchases made using these links. Commissions go towards keeping this site active. For more information, please see her Privacy and Disclosure Policies page. Read on for her suggestions for Travel Makeup Kits!
Travel Makeup Kits For Every Budget
(+favorite brush sets!)
If you are anything like me, you like to make a little bit go a longggg way. You also like to squeeze as much as you can in your suitcase or carry-on, and hate to bring a ton of separate items to all accomplish the same job. Enter makeup palettes and kits that can accomplish most if not your whole look, and are perfect for hastily throwing in your suitcase or carry-on. Most of my suggestions are travel makeup kits that include everything except mascara or foundation, or both. Most of the time when I travel I do not use either of these anyway. Besides, Mascara + dry plane ride eyes = ugh. I prefer this light powder foundation from Cover Girl though if I feel I need to hide blemishes or look nicer for some reason.

Travel Makeup Kits
Listed in order of low to high price.
I must confess I love ELF Cosmetics! Just a few bucks and your face is done? Count me as won over! They have healthy ingredients, and work wonderfully on my sensitive skin. Also, New Customers receive Free shipping on orders of $20 or more with code HELLO at checkout. US only.
But if you hurry, over the next two days they are offering Free shipping on all orders. No minimum! Use CODE: FREESHIP. Valid 1/24-1/25.
ELF Perfect Face Palette – $10
This Palette includes 3 Eyeshadows, 2 Lipsticks, 1 Highlighter, and 1 Blush. Just enough for a good start.

Profusion Cosmetics Trendsetter Face Palette – $12.49
Includes 1 Mirror, 24 Eyeshadows, 5 Blush/Bronze/Contour colors, 1 Highlighter, 2 Brow Powders, 1 Brow Wax, 3 Lip shades, 1 Black Eyeliner Pencil, 3 Applicator Brushes, 1 Travel Brush. All you need is mascara and foundation if you want.

Profusion Cosmetics Pro Face Professional Face Kit – $12.99
Another nice book from Profusion Cosmetics. This one does not include eye liner, but does have 20 eyeshadows, 2 Dual Brow Powders, 1 Brow Wax, 2 Highlighters, 3 Blushes, 2 Bronzers and 2 Pro Series Brushes. 
Sleek MakeUP Essentially Sleek Gift Set – $14.99
For those who prefer a darker, glamorous night out look there is this cute gift set. Even comes with a little purse for it all! Includes a mini Eyeshadow Palette in the shade Beautiful Sin, a mini I'm Conditional Mascara, a mini Major Matte lip cream in the bestselling shade Regal.

Pixi Ultimate Beauty Kit 4th Edition – $32.00
This kit is full of favorites in one slim palette. Includes: 48 Mineral Eye Shadow Palettes, 2 Glow-y Powders, 2 Beauty Blush Duo's & 2 Beauty Bronzers. I like the shades of blue in this one.

Travel Brush Kits
Prefer to use brushes? Check out these travel brush kits!
Elf 6 Piece Travel Brush Collection – $18

Sonia Kashuk Deluxe Travel Brush Set – $20.89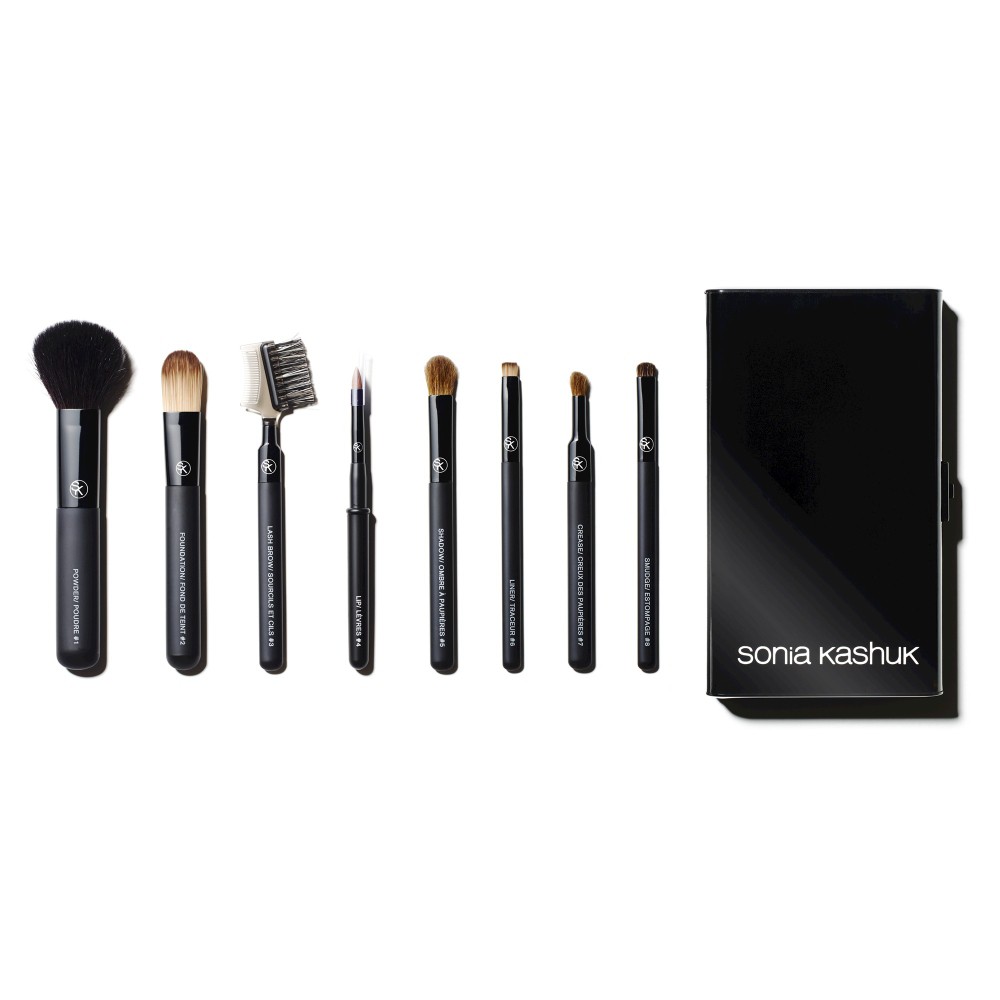 On my way to Florida soon! Will be back in February with some new adventures to post about!
Thank for reading!
-Jillian
Tags:
beach travel
,
beauty
,
carryon
,
in my bag
,
makeup
,
makeup for travel
,
makeup kit
,
makeup palette
,
travel
,
travel accessories
,
travel kit
,
travel makeup
,
travel sizes
,
what I pack