Fall Fashion and Necessities Roundup
Preparing to Fall into FALL!
Jillian uses affiliate links in this post, meaning she may get a commission for any purchases made using these links. Commissions go towards keeping this site active. For more information, please see her Privacy and Disclosure Policies page. Read on for her suggested Fall fashion and necessities!
Who is preparing for Fall? It has certainly been hard to even think of for me while sitting in 90 degree weather trying to write this next series of posts! As voted on by my loyal Balance & Blessings Facebook Group followers, the theme for September is Fall. Since technically the first day of Fall is not until my Birthday this year (September 22nd), and it is still wicked hot out in PA, I am not really Fall fashion ready. It is hard to believe Halloween will be here, though even that has been bringing warmer and warmer temps (70 degree Halloween last year!) So here we are, preparing to "fall into Fall" with just 2 or 3 posts that will hopefully satisfy some Fall-things cravings.
Fall Fashion 2018
First of all I am going to list some Fall Fashion/Cold Weather appropriate pieces. You might have seen my Fall fashion month posts last year. Here are a few new pieces for this year that are entering my Fall wardrobe, and where you can find them.
Leggings
Almost time for those leggings to come back out! Since Leggings have become such a wardrobe staple for everyone I have tried several brands. The pair shown above are from Lotus Leggings, which have tons of fun prints to choose from. The next pair I plan on purchasing are from Sand Cloud Towels. Sand Cloud now offers leggings in a few color choices. Their clothes are of lasting, comfortable quality. Bonus: a percentage of every purchase goes towards saving marine life and cleaning beaches!
*If you are making a purchase from Sand Cloud be sure to use my code for 25% off: Jbreneman25
Plaid Shirt
Who does not love the feel of a cozy plaid shirt against the crisp Fall air? How about one that is long enough to go well with those leggings mentioned above? Try this cute Plaid Button Down Tunic Top
 from Maurices! I  always love their selection of tops no matter the season!
Outdoor/Hiking Shoes
If you are planning to go out to admire the Fall foliage, do not forget to keep your feet warm and protected! My trail hiking shoes from New Balance are a must when I go out onto any of the parks or trails near me.
Fall Necessities
Just a few things to have around the home or to keep yourself busy while stuck inside on a really chilly day!
Candles
Enjoy some candle glow in delicious scents while helping to support animal rescues around the US! There are a few fall-worthy scents you can choose for your candles from Knox's Favorite Candle Co.: Fireside, Spice Blend, Coffee, and cake batter (Birthday month on my mind; can you tell?) And I just love their adorable label options, especially this one! This is so me on a cold Fall day!
*Do not forget to use my code for a 15% discount off any purchase from Knox's Candle Co. Etsy Shop: BANDB15
Blankets
Planning to cuddle up on the couch inside, or relax by a soothing campfire outside? A thick, soft blanket like this one will come in handy!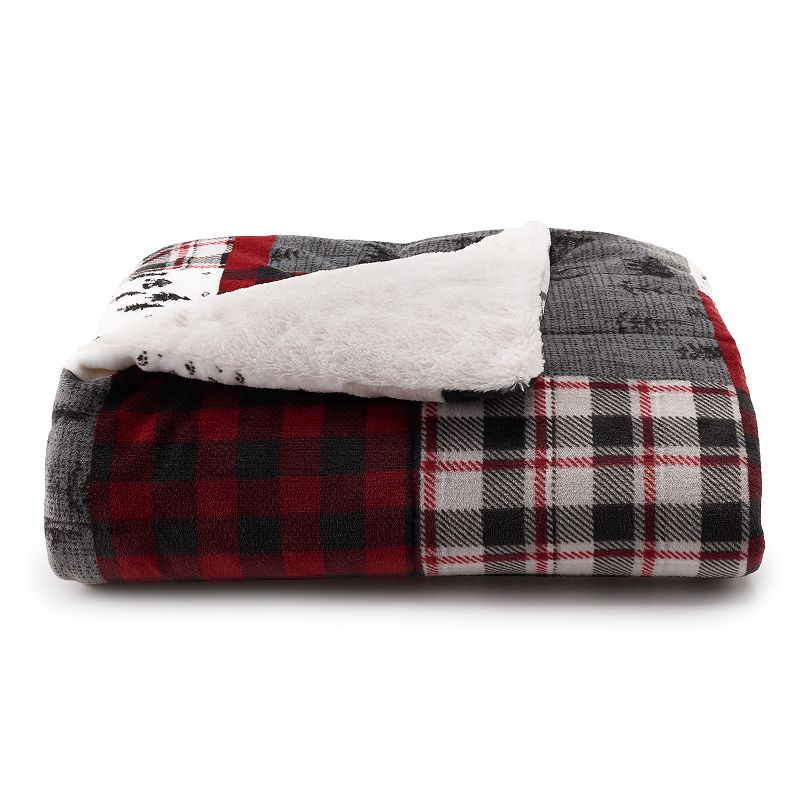 I think this "Lodge Patch" print is an adorable option. Many families by where I live have cabins that a blanket like this would fit perfectly with. There are many other prints available that would make cute gift ideas too!
Netflix Subscription
If you could not tell already, I am more of a homebody at even a hint of colder weather. I am so glad I subscribed to Netflix when it first became popular 10+ years ago. They are always adding something new, and have their own Netflix-only shows and movies as well. For the past few years we have been satisfied with just this streaming subscription.
Have not tried Netflix, or any other streaming service yet? Get or give a giftcard, and try it out! Their basic plan starts at only $7.99/month, and includes unlimited viewing of a huge selection of tv shows and movies!
A Sturdy Tent
Here is one for those of you who are more outdoor enthusiasts. With all the campgrounds and camping areas available in PA, everyone around me has a tent or camper of some sort (or both!) We have a nice tent like this one, and sometimes put it up in the backyard during clear weather.

Craft/Scrapbooking Supplies
Being shut in more in the late Fall and Winter, I like to spend some time catching up on crafts and scrapbooking. Sometimes buying craft supplies can be a whole adventure in itself which I am sure you crafty people can understand!
I also finally tried personalizing an album using one of those photobook companies that often offer deals on sites such as Groupon and LivingSocial. I have a tradition where each anniversary I try to gift my husband (and sometimes myself) a gift made of whatever the traditional anniversary material is for that year. Leather is one of the traditional 9th anniversary gifts, and I thought a leather photo album would suffice.  LivingSocial had the most offers to choose from to personalize an album with a Leather cover.
I used Printerpix to carefully choose photos of just the two of us from these past 9 years inside a white leather album. The album was beautiful, and I was absolutely thrilled with how all the photos came out! I might post it later on my Instagram. 😉
Baking Tools
These are a definite necessity, especially with the Holidays right around the corner once Fall actually hits! I have an embarrassing amount of tools and pans I only rarely use, but will keep just for Holiday baking! I did recently replace my old cookie sheets with this nice set from Target. So far I have used these pans to cook and bake several things, and they are holding up well. I like that they are different sizes, and have the ledge around them to keep dough or anything that might roll around from falling off.
What do you feel is necessary for Fall? Are you ready?
Thanks for reading!
Jillian
Tags:
autumn
,
autumn decor
,
baking
,
candles
,
cold weather
,
Fall
,
fall fashion
,
fall items
,
fall necessities
,
fall style
,
home decor