Jillian uses affiliate links in this post, meaning she may get a commission for any purchases made using these links. Commissions go towards keeping this site active. For more information, please see her Privacy and Disclosure Policies page. Keep reading to find out more about the best shoes for hiking!
Where to find the BEST shoes for hiking
(For men and women, and all under $80!)
As the Fall nears, and the weather cools, it becomes the perfect time for more strenuous outdoor activities. I love swimming in the summer, but prefer hiking for the Fall. The part of Pennsylvania I live in has many great hiking trails. I also like to hike outside of the state, and even outside of the country. Friends often ask me about the shoes I wear, and would recommend. I decided to let you all in on what I think are the best shoes for hiking, and where to find them for the best price!
Whether you are a new hiker preparing for an easy flat trail, or an advanced hiker or trail runner looking for shoes that can take more of a beating, I know of a brand that offers a good variety of different types of shoes for hiking. Have you heard of New Balance? If you have not noticed, over the years I have published several posts such as these about my love for New Balance shoes:
Why New Balance? They are very comfortable, and yet very hardy. They are made of great quality, usually lasting me over 2 years no matter the type of shoe. I have worn several different types of shoes from New Balance throughout the years, and whether for hiking or just walking, they all have held up well. They usually run true to size, so ordering them off websites have been easy!
They are also easy to find; offered in many department stores and online. New Balance also makes nice workout clothing for men, women, and children. The only thing that I do not like is the price. The quality is worth it, however, not always in my budget. The price of new trail running or walking shoes from New Balance might range from $75-$150! But even during outdoors season, you can find it all at a discount if you know where to look! But where is that??? Here is my favorite site to grab New Balance for a more affordable price:
Do not let the fact that this is not the official New Balance website make you nervous. Joe's New Balance Outlet is an official outlet site for New Balance Shoes. I have ordered shoes from the New Balance Website, purchased them at a New Balance official outlet, bought them at department stores, and ordered from Joe's New Balance. I never noticed a difference in quality no matter where I purchased them.
Joe's New Balance has great sales, and daily deals as well if you sign up for their emails. They often have free or discounted shipping, and the current shipping deal is $1 Shipping with code DOLLARSHIP at JoesNewBalanceOutlet.com! Offer valid 8/1 – 8/30.
I highly suggest signing up for their emails.
The Best Shoes For Hiking – my list!
Here are some of the shoes currently on Joe's New Balance Outlet website that I would suggest trying out for hiking:              (*Any prices stated are subject to change.)
For Women
New Balance Women's 412v3 Trail Shoes Black with Pink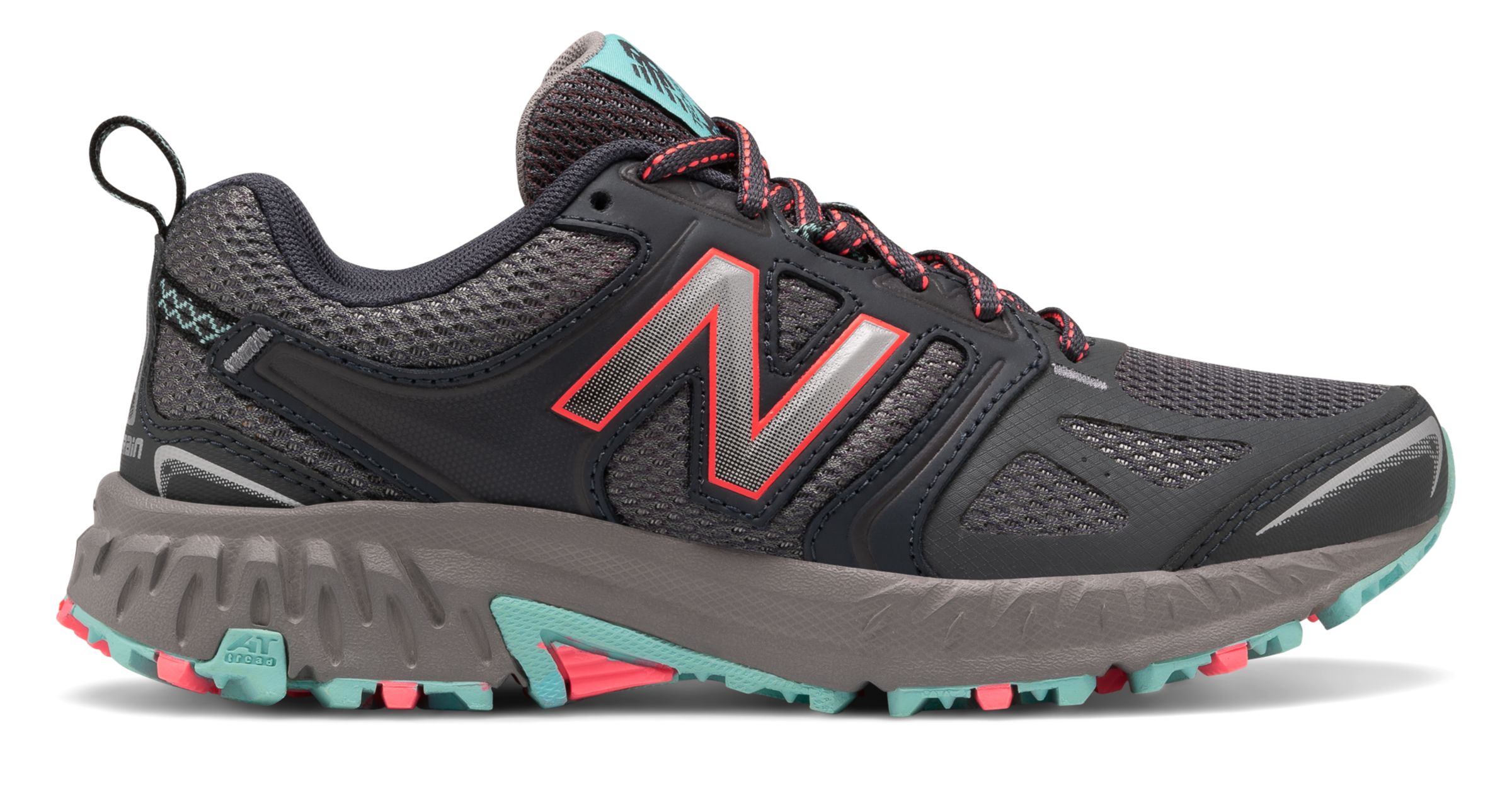 These are as close to as I could find to my favorite hiking sneakers which you can see in the photo above. I really like how grippy the soles are so it is easy to climb and run on rocks no matter how smooth. The sole is also thicker, making for great protection if going over anything sharp. Great for support as well. I usually use these for hiking or running no matter how easy or hard the trail is.
New Balance Women's Summit Q.O.M. GTX Trail Shoes Blue with Blue
Another option. These have a built in plate over the toes for protecting from sharp or heavy objects.
New Balance Women's 410v5 Trail Shoes Grey with Blue
These are nice too, and perhaps the best price: only $37.50!
New Balance Women's 669v2 Shoes Brown with Grey
These are more of a "walking" hiking shoe for easier, flatter trails. Still have good shock absorption, and a rugged look.
For Men
New Balance Men's 510v5 Trail Shoes Navy with Yellow
This shoe has a "toe protect" shield over it's leather upper, providing more protection when running on rugged trails.
New Balance Men's 410v6 Trail Shoes Black with Grey & Red
 These, like the womens version above, are a more affordable trail running/hiking shoe option. $51.99
New Balance Men's 669v2 Shoes Brown with Grey
Same as the Women's 669v2 above. More of a walking/hiking shoe.
New Balance Men's 669v2 Shoes Black with Grey
Same as the Men's shoe above, but different color option.
Don't forget to checkout the current clothing selection as well! Nice things coming out for this Fall and Winter, like this hoodie:
New Balance Women's Essentials Full Zip Hoodie Blue
And don't forget to shop for the kids!
New Balance Kid's 519 Big Kids Female Shoes Blue
Good luck with your shoe shopping and hiking adventures!
Thanks for reading!
– Jillian
PS Here are more posts about hiking, and things to do in my part of PA:
Tags:
best shoes
,
Disney shoes
,
hiking
,
hiking boots
,
hiking shoes
,
hiking trips
,
new balance shoes
,
new balance sportswear
,
shoe shopping
,
trail running
,
trail running shoes